1.   KL Motion Pictures Company Sdn. Bhd. is the manager of this website. All sales transactions on this website are handled by and payable to KL Motion Pictures Company Sdn. Bhd.
2.   Your package consists of two portions. Delivery for the first portion, which is the merchandise, can take up to 4 to 6 weeks, depending on the availability of stock. For Premium Packages, delivery of the Script Book can take up to 6 to 8 weeks after the movie's launch date. The second portion, which is the pre-sale movie 'ticket', will be sent to you via email after the movie is launched, which is approximately 7 months after the closing date of the campaign. If this campaign is successful and the making of Keluarga Iskandar The Movie is confirmed, the production timeline is as illustrated below (this timeline is only indicative and any change to the timeline is at the full discretion of the managing company):

3.   Customer will need to bear the delivery charges, which will be charged accordingly depending on the country of destination. For international destinations, please get in touch with us via email at customerservice@keluargaiskandar.com and a customer service officer will contact you.
4.   Due to Customs Restriction which prohibits the transportation of batteries and devices containing batteries via air cargo, packages that include the power bank can only be delivered to addresses within Peninsular Malaysia.
5.   If the item ordered could not be supplied due to unavailability of stock, we will replace it with another item of the same value.
6.   RETURNS POLICY:
a.   Cancellation of orders after payment has been made is not allowed.
b.   Return or exchange of items without good reason after payment has been made is not allowed.
c.   Damaged or defective items must be informed to us within 48 hours after the merchandise has been received. We will change it to similar items or items of the same value if similar items are not available due to stock inavailability.
d.   If the total amount collected at the end of this campaign is less than the targeted amount, the amount paid for the pre-sale movie ticket portion of the package will be returned to customers. The diagram below outlines in detail the amount that will be returned to you if we fail to achieve our target (please click on image for a bigger view)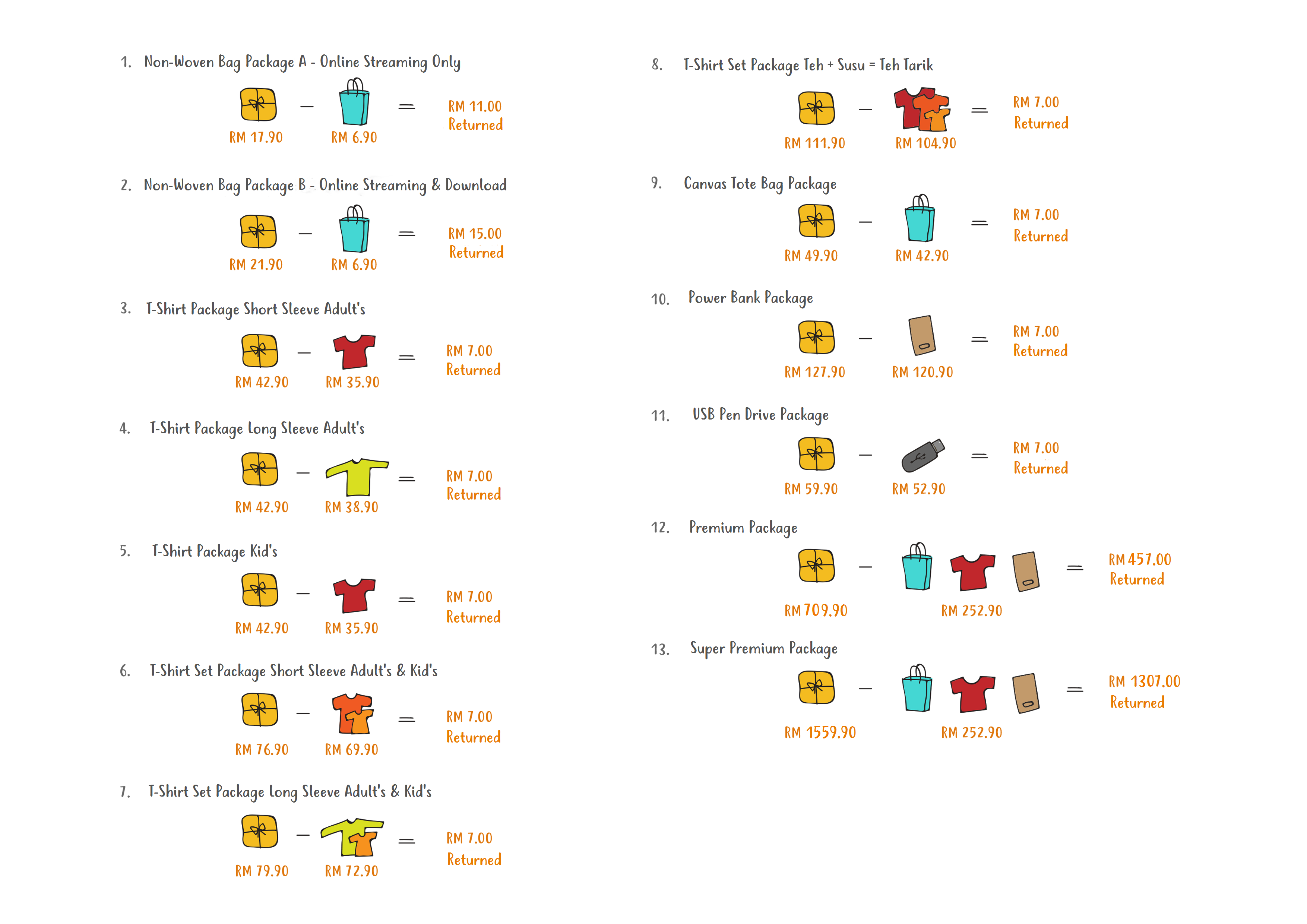 7.   CONTEST POLICY:
a.   If a winner does not respond to us within 7 days after being notified, the winner's prize will be forfeited and we shall be entitled to select another winner. If a winner rejects their prize or the entry is invalid or in breach of these Terms and Conditions, the winner's prize will be forfeited and we shall be entitled to select another winner.
8.   We shall not be liable for the performance of Third Parties, which include banks, payment merchants and courier companies.
9.   We shall not be liable for the content, functions, accuracy, legality, appropriateness or any other aspect related to third-party websites or resources. The inclusion of another website or any link to another website from our website does not imply endorsement by or affiliation with us. We shall not be liable for any damage related to the use of any content, goods or services available through any third-party website or resource.
10.   The website and any other pages managed by us are protected by copyrights and trademarks, and users are expected to abide by the rules and restrictions associated with such. The use, reproduction, modification or distribution of any of our content for other than personal, non-commercial purposes is prohibited without prior written permission from us. No part of the content owned by us shall be used for commercial use or in any way that violates our rights as the content owner.
11.   Your details will be kept confidential and will not be used for marketing purposes or shared with a third party.
12.   We reserve the right to amend any term and condition as deemed fit and necessary at any time without prior notification.